Study.com's platform varies from other online learning sites due to the number of services offered. It serves many clients and provides diversified content. In this study.com review, we examine the site's usefulness to learners.
Overview

Study.com helps high school and college students obtain higher grades by offering test preparation assistance, online courses that transfer to university credit, professional counseling, and more than fifty thousand informative articles about degree and career prospects. Currently, it serves more than 15 million students every month and provides more than 10,000 courses covering almost all subject areas. The courses are meant to be brief and straightforward, with several examples to aid students in rapidly grasping the topic. The curriculum includes K-12 content, college preparation, and professional development. In addition, members are free to study anything on the site. Other online learning systems limit learners to a particular course or grade level. With a subscription, you get access to all levels of classes. It makes it especially suitable for homeschoolers.
Study.com review: Ordering Process
The ordering or purchase process on study.com starts with signing up as a student. As a first-time user, you will be happy with the registration procedure. While they do not provide price and plan details upfront, it is easy to choose alternatives from drop-down menus like a choose-your-own-adventure while navigating to the checkout page. The first choice is to identify yourself as either a student or a teacher. After providing your name, email address, and phone number, you will finally reach the pricing page.
Also, you may either type a keyword into the search box or browse through the subject list displayed at the top of the main page to identify a course of interest. There is a unique approach to sort and filter courses, which is mentioned in some of the site's testimonials. While some users feel the company is not legit or trustworthy based on the course thumbnails, in all honesty, they are not as bad as their effectiveness cannot be judged based on a few generic stock photographs.
Writers/Instructors
Study.com provides a variety of video lectures, projects, and quizzes that may be utilized to augment your current course content, regardless of your educational level or topic. With over 22,000 videos developed by qualified instructors in its collection, all of which are organized into standards-aligned lesson plans, the company offers a vast array of support materials. However, it's quite difficult to objectively quantify a user's learning experience since different individuals experience services in various ways, and your experience with a course might be the polar opposite to that of another student. Nonetheless, if we examine the vast majority of online study.com reviews on trustpilot.com and other such platforms, we can see that most users are delighted with the site. The courses are pertinent while the learning process is seamless.
Quality
When looking for online courses, the quality of the information provided by an online education platform should always take precedence. It is one of the most crucial factors influencing the success of an online education platform. A suitable e-learning platform will include courses that have been authorized, are conducted by qualified teachers, and are of acceptable technical and informational quality. When it comes to the quality of Study.com's courses, most customer evaluations are rather good. People report that the courses and everything around them are of high quality and that they are having a generally positive experience.
Contrary, it is important to note that due to the platform's vast selection of courses, it is impossible to state that all of the courses are excellent. Some of study com reviews, for instance, claim that while the courses are adequate, the knowledge they give is really basic and will not assist more advanced students in learning what they want. However, the general view is that the platform provides high-quality learning materials.
Also check best websites that write papers for you.
Study.com prices
Pricing is a contentious issue for the platform and its customers. First, the company has a five-day free trial for their courses. There are five different subscription options available. Their price structure is as follows:
College Accelerator – $199,99 per month
Premium Plan – $59,99 per month
Teacher Edition – $59,99 per month
Basic Plan – $39,99 per month
Enterprise Solutions – Situation-dependent
Compared to other service providers, the pricing seems to be reasonable, and some of them are even on the cheap end.
Support
Study.com, like most other online education providers, takes pride in its customer service. Users may seek this support by sending an email to [email protected] or by submitting an online support ticket. After entering the first contact form on the website, students may anticipate a response within a few hours or one business day.
Pros and Cons
| | |
| --- | --- |
| Pros | Cons |
| Numerous features from which to select | Offers little resources for advanced learners |
| Reasonable pricing | Several dubious controversies |
| Ease of navigation | |
Guarantees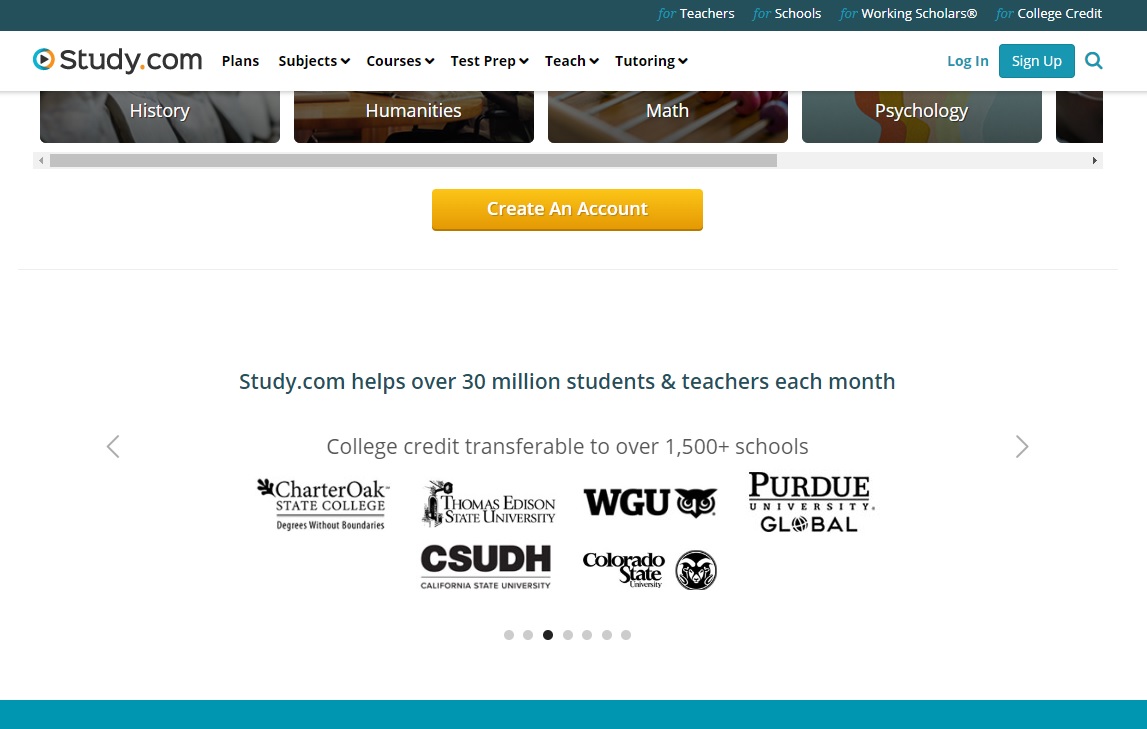 While the firm does not have a standard Refund Policy since it is subscription-based, it makes reasonable refunds at the request of its clients. Students are not trapped into long-term contracts after they have registered. They have the option to cancel their subscription at any time and upgrade or downgrade their package as their requirements change. However, if you encounter any technical issues that impede your ability to utilize their membership, you must contact their Support team immediately so they can resolve the issue or offer you alternatives or solutions. Each case is unique and they handle it as per its merits.
Study.com reviews: Conclusion
From this study com review, it is evident from a thorough evaluation of Study.com that the online learning platform delivers on most of its promises. It provides a vast array of instructional tools and materials for students of remote and even conventional learning of all ages and educational levels. It also ensures a convenient, accessible, and even fun learning environment. The site gives its users high-quality material with few if any controversies at all.